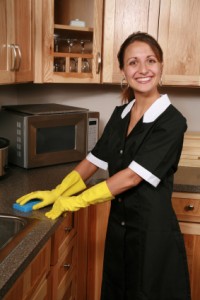 Having a helping hand at home is no longer a luxury, but a real need for the people from the modern, busy world. We are all running so busy and having so little time for ourselves that the desire for having a clean and cosy home is turning into something illusionary. The last thing most people are keen on start doing when they come home after a long day at work, is to start scrubbing and wiping around.
With us, booking a housekeeper to help you with the household cleaning tasks is reliable and affordable.
Book your Regular Cleaning Services
We understand that Regular Cleaning is very confidential service and reliability and communication are extremely important. In order to provide our customers with the high quality services they deserve, we have gathered a team of well-trained, friendly cleaners, with positive attitude towards their duties. All of our housekeepers are personally interviewed and thoroughly checked. We provide insurance for cleaners against accidental damage and public liability in order to give you and your cleaner peace of mind. The cleaners are thoroughly trained to carry out their duties to a very high standard.
What you have to know about us:
Availability any day of the week
Trained, background-checked and qualified housekeepers
Budget-friendly prices
Detailed and thorough cleaning sessions
Two payment methods – cash and bank transfer
Excellent customer service
In order to provide you with the desired service that fits best your needs and requirements, we are flexible in relation to our Regular Cleaning Services. Some of our customers prefer to have the service during the week. If this is your case as well, you can always provide your cleaner with a key and arrange the session the best way for you and your schedule. Please note that we work also during the weekend and no extra fee is applied.
Except the Domestic Cleaning, our cleaners are also able to iron, change linen, empty bins. You are even able to send us a list of tasks you want to be completed during the service.
See an example checklist which you can customise to your liking:
Kitchen:
Wipe and disinfect appliances such as toasters, microwaves, ovens, fridges and freezers
Shine and polish sinks and taps
Wipe mirrors, windows and glass surfaces
Dust shelves, cabinets, drawers and other surfaces
Remove cobwebs
Empty trash bins
Vacuum area rugs and mop floors
Bathroom:
Mop floors
Scrub tiles
Remove mould, limescale, soap scum and hard water stains
Descale shower heads
Wipe mirrors, windows and glass surfaces
Empty trash bins
Disinfect and sanitise toilet, tubs, showers and sinks
Remove cobwebs
Bedroom and other living areas:
Dust shelves, picture frames, door handles, door panels, drawers, cabinets, pieces of furniture and other surfaces
Wipe windows, mirrors and glass surfaces
Vacuum floors and mop bare floors
Dust radiators, windowsills and baseboards
Remove cobwebs
Providing our customers with top quality services at reasonable prices is the main goal of our company. Last but not least – we treat each and every task with respect and care.
See what customers say about us:
Wonderful people! They are always so smiley and polite. I know I can always entrust my home to their care.
Impressive cleaning session, every nook and cranny in my flat is spotless clean. I will surely keep on using this company's cleaning services.
Wow, thank you for your patience. Thanks to you my home looks amazing now without me having to pay a fortune. So affordable prices for such a high quality.
If you are interested in booking our regular cleaning services, do not hesitate to call us for a booking.