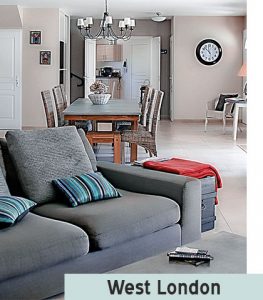 In case you are searching for a cleaning services for your end of tenancy needs in West London then do look no further. Our services are flexible and will leave you with a peace of mind after you get it for your place. At Domestic Clean London we offer our end of cleaning services which can be tailor made as per your needs and wants. Our services cater to both the tenants and landlords who can get their house cleaned professionally by the experts.
Affordable End Of Tenancy Cleaning West London
We have our dedicated teams in West London who cater to all the cleaning needs of the residents of the entire area. Our services are available throughout the week and we offer the flexibility to you so that you could book them as per your convenience. Today we are popular all over London for our end of tenancy cleaning solutions.
Having a fresh clean and a germ free house ensures that being a property owner you attract more tenants and in turn get better rents from them. We are proud to say that our specialists provide you with quality services at affordable prices. Each section of your house is given the appropriate care depending on the requirement of the place. For example the methods to clean a kitchen would be different compared to a bedroom.
Acton
Chiswick
Notting Hill
Shepherds Bush
It is important that one gets the help of a professional cleaner who knows the job well and is experienced in this niche. We proudly say that with the amount of customers we have and the amount of experience our expert cleaners have you will never regret coming to us. Our End of Tenancy Cleaning will ensure that your house becomes better than it was when you purchased them or made them. You can easily reach us via phone or by sending us an e-mail. We are always available and send the cleaners as per you time and as per your needs. It would be helpful if you specify your requirements to our cleaners.