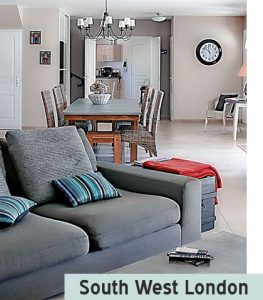 Moving into a new home or leaving an accommodation in South West London is very exciting and we are sure that the last thing you want to worry about during that time is the condition of the property. However, most landlords oblige you to clean your old place, so that new tenants can move in as soon as possible.
This means that the place will have to be perfectly cleaned, but doing this without the necessary equipment and knowledge is nearly impossible. This is why we advise you to take advantage of the professional end of tenancy cleaning service in South West London.
Our end of tenancy cleaning service is also available for residents of South West London and its quality is unmatched. Let us take care of your own home and you'll have more time to think about your new house. We'll bring all the necessary cleaning equipment and products, so you don't have to worry about that. We have a different approach towards every customer.
This means that our cleaners will prepare a special list of tasks for your old home and work according to it. Here are the general things which our end of tenancy cleaning service covers:
What is included in the cleaning
Clean cupboards on the inside and out
Clean kitchen surfaces
Clean kitchen appliances on the inside and out
Vacuum and mop floors
Clean and wipe the inside of windows
Clean and wipe mirrors
Clean and disinfect sinks, toilets, tiles and showers
Polish window sills, paintings and door frames
Clean furniture
Keep in mind that our end of tenancy cleaning package doesn't include carpet or upholstery cleaning and cleaning windows on the outside. These services are paid extra. If you want to have your home cleaned perfectly from top to bottom, we advise you to bundle these services together. This will guarantee that the final result will be a clean and fresh home, ready to pass the inspection of the pickiest landlord.