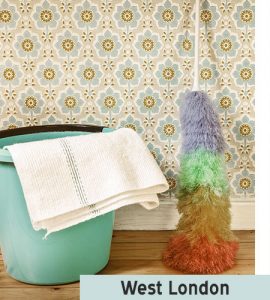 The companies providing house cleaning services in West London are huge in number but what London has a dearth of is quality of these services. The hard work and dedication that we put in our cleaning routines ensure to fulfill the requirements of our customers in West London and reach a level of excellence that is unmatched. The trust that we have built within our clients speaks volumes of the dedicated efforts and professionalism exhibited in our one off cleaning work.
A cleaning plan is first chalked out with complete attention to the details that the client's needs and expects. The personalized attention and systematic approach help us finish the task well and in time. The plan helps is marking any unwanted deviations and also assists in timely completion of task.
Professional One Off Cleaners West London
What makes our services special is that our team of cleaners are highly skilled and professionally trained for all kinds of cleaning tasks. Also the equipment used are uniquely designed for spotless cleaning outcomes. Our company has a legal license and certification to provide these services. Any accident cases are to be treated completely by us and this ensures that our clients fully free from any kind of doubts and tension.
The quality that we assure with our one off cleaning services do not come expensive. In fact, honesty is what we believe in and hence our prices are best in the industry that brings in the best quality with it. Convenience in making payments is an added advantage as we take payments in cash which eliminates complexity. We are available for work throughout the week which means that we also immediate needs if necessary all across London.
Apart from a catalogue of cleaning plans, one can also opt for upholstery packages, steaming, and dry cleaning of carpets and curtains for a very nominal charge. For any information one can always reach our office and get all information regarding our range of services and the corresponding rates. We also make arrangements for cleaning services and fix appointments through a simple call made to our office. We assure quality service at prices that are unparalleled all over London.