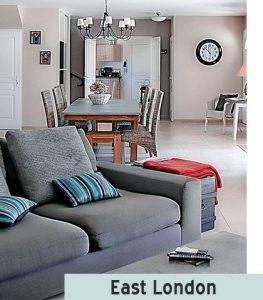 Home maintenance is one of the most important daily tasks, because a clean and healthy home offers a better living environment for you and your family. Of course, house cleaning is important in many other occasions, for example – when you are changing homes. You must make sure that both your old and new home are perfectly clean.
Your old accommodation must be top to bottom clean and ready to pass the inspection of your landlord. Doing all this cleaning yourself will take a lot of time and energy, so we advise you to leave this job to us. Our cleaners in East London will easily take care of your old home and restore its original condition.
We are a reputable cleaning agency which offers the popular end of tenancy cleaning service. This cleaning solution takes care of the condition of your old home and prepares it to pass the inspection of the strictest landlords.
We guarantee that a home cleaned by us in East London will meet the expectations of every property agent. Our cleaners will clean every area of the place, making it ready to accept new tenants. This way you will also save a lot of time which you can spend packing and transporting your belongings. Keep in mind that this is not a maid service and we won't do the laundry or dishes.
Kitchen area:
Cleaning grease and grime
Cleaning sink and taps
Cleaning the inside and out of the oven, fridge, dishwasher and microwave
Cleaning and sanitizing the floor
Bathrooms and toilets:
Cleaning and sanitizing floors and surfaces
Scrubbing the bathtub, shower and sink
Cleaning the tiles
Cleaning the mirrors
Bedrooms and living rooms:
Vacuuming and mopping floors
Vacuum surfaces
Cleaning paintings and other wall hangings
Removing litter
Cleaning the inside of windows