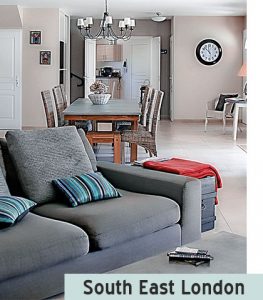 Changing homes is an exhausting process which can be time-consuming too. You'll have to make a lot of arrangements like packing, transportation, cleaning, etc. You have to worry not only for your new home, but your old home as well. It needs to be properly cleaned and ready to pass the landlord's inspection.
Doing this all by yourself isn't easy as you need special knowledge, equipment and detergents in order to properly clean your old accommodation. We advise you to leave this exhausting and tedious job to us – our cleaners are equipped with the latest cleaning machines and detergents and will easily clean your home at the end of tenancy period. Our end of tenancy cleaning service in South East London will easily meet the expectations of your landlord.
High Quality South East London Cleaning
Our company works with residents of South East London and our cleaners are available throughout the entire week. Having your home professionally cleaned is the best way to make sure that it will pass the inspection of the strictest landlords. Our cleaners will create a special list of tasks to be completed and follow it. The service involves:
Cleaning the inside and out of cupboards
Cleaning surfaces
Cleaning the inside and out of appliances
Vacuuming and mopping floors
Cleaning windows on the inside (outside cleaning is paid extra)
Cleaning mirrors
Cleaning and disinfecting showers, toilets, tiles and sinks
Cleaning window sills, door frames and paintings
Cleaning furniture
The service doesn't include upholstery/carpet cleaning and you have to pay extra for these services. Book our services and we guarantee that your old home will be perfectly clean from top to bottom. It will easily pass the inspection of the landlord and you'll get your deposit back.