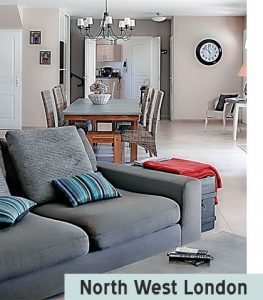 It doesn't matter if a person is leaving an accommodation or moving to a new house. The most important thing is to have a clean property for the people who will come after you. A Landlord will always require the tenants to leave the house or flat clean and in proper condition and similarly the new tenants who move in will always want the landlord to provide them with a well cleaned and sanitized house.
We help you in meeting all the expectations. Our professionals in North West London have been delivering best results and satisfying the clients for over a decade.
A team of expert cleaners are sent at your home in order to perform top to bottom clean. They will stay there and give their best efforts until and unless they get the best results and make your house look fantastic. We always want to have long term relationships with our clients, so customer satisfaction has always been on top of the priority list.
Tenancy Cleaning North West London
The experience gained by the professionals in our company helps in making the work easier as they are aware of what is required to be done in each areas of the house. You can always provide your list of requirements but the experts coming from our company know about the detailed work needed for your house.
As soon as you call us be sure that you called the best company in North London. We are different from other companies as we don't only make promises but believe in delivering results. You can see many companies claiming of having tons of experience and delivering great solutions. But the difference at our company is that we will come at your home and let your experience the difference yourself.
Each and every part of the house will be covered whether it is the kitchen, the bathroom, or the living room. We will mop up the floor, clean the cupboards, sanitize and polish the taps, the mirrors are polished, showers and bath sinks are cleaned. This service also includes the hovering of upholstery and furniture, cleaning the switches, skirt board, radiators, dusts the surfaces.