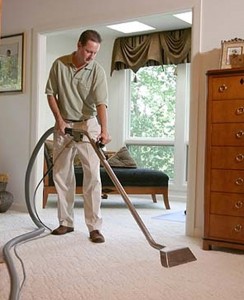 The regular hovering of your carpet prolongs its life, but when talking about real sanitizing, a professional care should be applied.
We are not really aware with the numerous bacteria, mites and mold, inhabiting the carpets in our homes. If you don't get your carpets professionally cleaned on regular bases, at least twice per year, this will allow these bacteria to fester and grow. Many common illnesses can be avoided with regular cleaning of your carpets. Among all, the most efficient way for cleaning and sanitizing is the Hot water extraction.
Rug and Carpet Cleaning Services London
The primary advantage of the hot water extraction cleaning method is that effective cleaning is possible using only hot water, or hot water with very dilute detergent solutions. The usage of professional cleaning equipment for the service will guarantee, that there will not be any unwanted detergent leftovers in the texture of the carpet. Since the use of detergents and other chemicals is minimized or avoided altogether with the hot water extraction cleaning method, this method becomes just the right one for persons concerned about possible chemical exposure, especially for children crawling or playing on recently-cleaned carpets.
Having all this information in mind will easily give you a proper reason for choosing the Hot water extraction as just the right cleaning service for your needs and expectations.
We, as one of the leaders on the market, are aiming always to provide our customers with high quality services on reasonable and competitive prices. This is why we use only top of the line 400psi steam and hot water extraction machines. Due to the fact that the only disadvantage of the Hot water extraction is that 100% of the water used cannot be removed, we are able to provide you with solution also for this issue. In order to overcome the disadvantage, we have fully equipped our cleaners with the best and the most modern machines on the market, providing the option approximately 95% of the moisture to be extracted at the end of the cleaning. Following this the carpets should take only about 2-3 hours to dry (depending on pile thickness), which as a fact, makes the Hot water extraction, we provide, is the most efficient way for cleaning and sanitizing you beloved carpets and rugs.
We use this company's carpet cleaning services for the second time and are very delighted with the work of the staff. They cleaned effective machines and qualitative preparations which removed the stains and grime from our carpets without leaving any trace. Excellent services which we recommend to everyone who needs professional carpet cleaning. – Holly
The last tenants left my flat in a terrible condition especially the carpets. We called this company and the guys succeeded to clean them professionally and thoroughly. After they finished work, the carpets were rid of all stains and grime and now look much better. Thank you very much for the professional work. – Phoebe