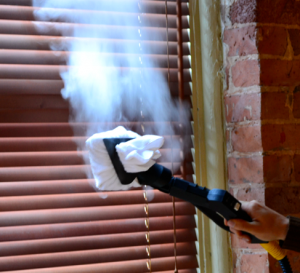 For everybody the cleaning of the blinds and the curtains at home, appears to be one of the most unpleasant tasks. The whole process is heavy, difficult and time consuming. On the top of it, it may not always lead to the desired result.
When using professional cleaning services, all the inconvenience will be avoided and you would not need to bother yourself with washing your blinds or curtains yourself. Our well trained team of professionals will arrive straight to your door and will complete the cleaning, while the curtains are still hanging, avoiding all the heavy job of taking them off, washing and hanging them back on place.
Professionally Done Blinds and Curtains Cleaning
Due to the fact that the domestic cleaning of the curtains and blinds is quite a heavy task, this remains neglected in most homes. On another hand, the curtains are usually fairly filthy, and with good reason. They are the barrier between outside and inside. Draperies are also the places where dust and dirt from ceiling fans and air vents settle. Even when you clean your house, you are putting dust and debris into the air. A number of those particles will settle onto your curtains. No matter how dirty and dusty your curtains get, it would be way too much work to wash them or have them cleaned every week.
Using the help of our professional cleaners will save you much of an effort, time and will provide you with a stunning results you have hardly expected.
The steam cleaning, we are able to offer, gives amazing results on cleaning fabrics, leaving your blinds and curtains fresh and disinfected. When using only high quality cleaning equipment, we will be even able even to extract up to 95% from the moisture, created by the Steam cleaning, so the whole drying process will be cut to couple of hours, instead of couple of days, which will otherwise be needed.